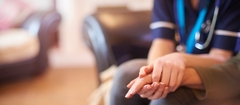 As parents and loved ones grow old, families begin to take on the job of providing extra assistance and care to for them. It is not uncommon for children or other family members to help their parents or grandparents as they begin to need extra assistance.
Here are seven facts about family caregivers many will find shocking:
1. Adults ages 45 to 64 are most likely to be caregivers.
About 23% of adults in this age range either have or currently care for an elderly adult. It is also common for adults 65 and older to be a caregiver.
2. Emotional support is a very large part.
Providing emotional support to an elderly adult is a large part of being a caregiver. This is sometimes seen as being the most important parts of a caregiver's job.
3. 40.4 million caregivers 65 and older in the U.S. that are unpaid.
Caregivers provide many things for their aging relatives, neighbors or friends such as companionship, assisting with housework or cleaning, and providing medical or physical care. Many of these caregivers offer their time and resources while also juggling their own lives and jobs, which can pose stress for a caregiver.
4. Financial strain is high.
To care for someone takes time and money. Caring for an elderly adult can put even more strain on a person's financial situation. Family members caring for their elderly loved ones are most often not compensated for their time.
5. Coping with a caregiving role is difficult.
Caregiving has physical, mental, and financial aspects to overcome when caring for a love one. For caregivers who have proper support, information, and training in these areas, it can be a much easier transition.
6. Most caregivers find it more rewarding than stressful.
Among the caregivers who have helped elderly parents, a majority of them say it was an overall rewarding experience.
7. Caregivers are generally comfortable.
Most adults say their elderly loved one expects a comfortable amount of help and support their caregiver is able to give to them. Caregiving is a large responsibility, but many are able to take on the task for their loved ones.