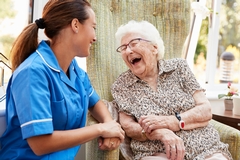 For individuals dealing with changes or decline in brain function, it is important for them to get the proper care and help that they need and deserve. Copperleaf Senior Living cares about their community and is a facility committed to following a positive approach to memory care.
Copperleaf ensures that all of their residents are happy and comfortable no matter their age or situation. If you're searching for memory care for your loved one, you might want to consider one with the positive approach to memory care model.
Here is the positive approach to memory care model broken down:
Focusing on what's next, not on what's gone
Dementia and Alzheimer's causes changes in brain function and can be difficult for everyone involved. With extra help and proper care, these difficult symptoms of memory loss can lessen. Things such as leisurely activities, listening to music, spending time together, etc. can be helpful for individuals dealing with memory loss. Focusing on the progress they have made or what they enjoy doing now at this stage of their life is more important than focusing on how they used to be.
Reactions to responses
Everyone is different and deals with their memory loss differently. That is why this area of the PAC model is so vital. When working with someone who is frustrated or feeling like they want to give up, even on something they once loved, it's time to change approaches to something that will bring a better response. Learning how to deal with a situation differently for a better and more positive outcome is key.
Respecting wishes
Highly trained care partners know exactly how to handle situations in a delicate and safe manner when patients get confused, disoriented or upset. Facilities who use this model don't discuss how they deal with "behavioral problems" with sedation or removal, they respect their residents and what they are going through. With the PAC model, residents can feel comfortable and supported.
Working to understand dementia better
Dementia is an incredibly difficult disease for everyone involved, especially the patients. Working hard to understand each resident's unique needs and situation is important to the trained caregivers at Copperleaf. They care about their residents and focus on learning more about what they can do to make them comfortable and happy.
Open to holistic approaches
Medicine is necessary and needed for some people, but there are other ways to feel better such as aromatherapy that doesn't involve more prescriptions. Using aromatherapy can help ease symptoms of stress or anxiety and can even help with increasing appetite.
Staying active and engaged
Copperleaf has programs that allow their residents to stay active and engaged at all stages. This is important because with healthy eating habits, proper exercise and staying hydrated, residents are able to live a full and healthy life. Residents can get bored or become unhappy from lack of exercise or proper nutrition and that is why Copperleaf strives to provide residents with tools that keep them active.
Staff who genuinely care
Well trained staff with a passion for helping residents stay happy, healthy and safe is the main concern at Copperleaf. Staff who choose to respect and care for their patients in ways that others might not are who they are.