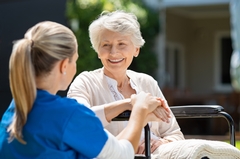 Any big life change, such as moving to a new place, can take time to adjust. Everyone's experience may be different and Copperleaf Senior Living is here to help make the transition smoother.
At Copperleaf, we provide the quality care and extensive services to ensure the health and safety of our residents. Our Assisted Living Homes are all about maintaining independence while providing assistance specific to our resident's individual service plan.
A senior moving into an assisted living building will feel more at ease with the proper help and assistance they require. It is important to check in with your loved one often to see how they are adjusting and how you can help.
How you can help your loved one adjust
Realize moving into an assisted living home can be a major life change.
Give your loved one time and space to adjust to their new home
Understand this life change will benefit your loved ones' health and well-being
Check in with them often by calling or stopping by
Ensure they have access to all activities or hobbies they are passionate about
Show encouragement and support often and be positive about this new living situation
How Copperleaf Senior Living can help families adjust
Copperleaf staff are happy to answer questions, give tours of the facility, reassure residents and show new residents we are committed to providing a welcoming, positive and an engaging place to live.
There are many benefits when moving a loved one into assisted living. For more information or if you have questions or comments, please call us at 715.254.4357.