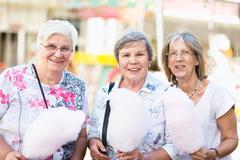 The parking lot of Copperleaf Schofield Memory Care looked quite a bit different on August 11th this year as Schofield Memory Care and Schofield Assisted Living held their first annual Copperleaf Carnival. The blacktop was filled with tables full of cotton candy, hotdogs, nachos and other tasty treats while the grassy areas were covered with saw-dust, hay bails and furry, four-legged critters.
Over 125 people attended this entertaining event. Family members, caregivers, residents and the public enjoyed the sunny 80-degree weather while bobbing for apples, tossing balloons and taking tours of the local fire department trucks and ambulance.
"I really loved the food; they had a lot of options to choose from," one resident was quoted as saying. The creative brainstorming and planning were largely in part due to the commitment and dedication of the Life Enrichment Coordinators for Schofield Assisted Living, Stefanie S. and Schofield Memory Care, Carol Ann S.
"Setting up the carnival was a fun challenge. It was great to see so many staff members go above and beyond to make the event a success," "Although it was a hot day, we all worked together as a team and had a great turn-out for our first Copperleaf Carnival."
In addition to food and games, the event featured a petting zoo with chickens, horses, goats, cows and sheep. Residents and family members climbed aboard for a good-old fashioned wagon ride which brought back memories and smiles to many of the elderly faces. "I loved the baby animals and the horse drawn wagon rides," remarked James, another resident.
It is important to spread awareness throughout the community for Alzheimer's and Dementia. Holding an event such as this, is an opportunity to showcase the Copperleaf facilities and what we have to offer our residents while engaging caregivers, families and the community in a fun-filled day.
"It was nice to see the residents and community interact with each other, and for the community to see why, we as Directors and caregivers strive to put a smile on our residents' faces daily," said Adrianna S, Schofield Assisted Living Director.
"My favorite part of the carnival was being able to see my residents enjoy themselves. From the wagon rides, to the petting zoo, to seeing them participate in the carnival games it brought happiness to my heart and reminded me why I enjoy the field that I work in as much as I do," remarked Lydia S, Schofield Memory Care Director.