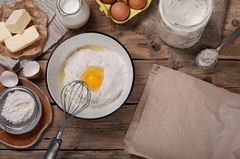 Good nutrition and balanced meals are imperative for elderly individuals.
Thankfully at Copperleaf Senior Living our cooks have knowledge and understanding of these changes and work very hard to ensure that our residents are getting the proper nutritious meals they need to over-come those eating obstacles.
Carol K at Schofield AL is always providing the residents with extra meal options if they do not like what she is serving. She takes birthdays very seriously whether it be an employee or resident celebration.
At North Crest, Vicki's cookies and cheesecakes look and taste like they were made in a bakery.
North Ridge in Stevens Point benefits from the mother/daughter duo of Lori J and McKenzie W. Not only do they provide excellent meals, but they also put on a happy hour every Friday with all of the residents' favorite snacks and drinks.
Joan W at Ripon, described as caring and dedicated, is known to serve her residents with meals that satisfy their individual preferences. Residents say her shrimp dinner is as good as any supper club.
For the past twelve years at North Haven MC Christine C has been serving her residents with their favorite recipes including cheesecake and peanut butter bars.
For the residents at Liberty Village in Adams, Melody A, provides a seasonal menu including a special monthly meal. Her soups are homemade and delicious, as well as the daily goodies she puts out for the coffee bar.
When it comes to food and nutrition, Copperleaf Senior Living prides itself on the meals being prepared and served to the residents. Through training and education, the cooks and staff learn the importance of special dietary needs and balanced meals. Copperleaf cooks know it takes more than just measured ingredients and creativity, which is why they are such a vital part of the care team. Copperleaf Senior Living cooks are known for their care, compassion and that special ingredient, "love", that they put into each of their meals.