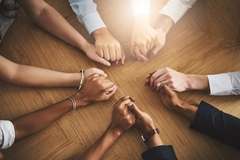 As a caregiver for a loved one with dementia, you might be faced with increased levels of stress.This could lead towards anxiety, depression, burnout, or being overwhelmed.
Caregivers often spend over 20 hours a week caring for their loved one with dementia.This can be financially, physically, and emotionally straining as well as time consuming. Dementia is a long and slow process of changes in decision making, communication, everyday activities, and emotions.
Because this is such an undertaking, a dementia caregiver support group might help. Sometimes caregivers for a loved one with dementia can feel alone in their feelings due to others not completely understanding the disease or what it means to be a caregiver.
Benefits of joining a caregiver support group
With the progression of a disease such as dementia, it can be hard for a caregiver to fully prepare for the feelings of anger, irritability, or exasperation. These emotions can be hard to handle when seeing a loved one struggle as their disease progresses.
A caregiver support group offers a safe space to share challenges, hardships, and difficult emotions of a loved one going through memory loss. It can help caregivers process their emotions in a healthy way and offer ways to cope with stress and anxiety.
A support group can offer opportunities to speak about your experiences as a caregiver or listen to others who have similar experiences as you are having caring for a loved one with dementia. Sharing relatable feelings and offering ways to cope with challenges and changes are common topics in support groups.
In order for you to provide your loved one the best care you can, it is important you are also happy and health. The health and overall happiness of both you and your loved one is what matters most.