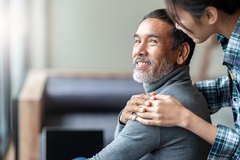 Starting a conversation with a parent about assisted living can be a big step in life. This conversation might be difficult or confusing and knowing the right things to say is key. It's very common for families to ignore the thought of assisted living and pretend there is no issue, but there are much better ways to go about it that will benefit you and your parent.
Assisted Living can be considered for a parent when they no longer feel safe or are able to live comfortably and move freely in their own living space. The CDC reported that 25% of Americans over 65 falls down each year which is the leading cause of senior injuries or death.
This topic contains a lot of information and details to discuss. If you have hesitations or concerns regarding talking to a parent about assisted living, Copperleaf Senior Living has three tips to help you make this conversation a little easier.
Talk in person and don't rush things - Having a big conversation like this is best done in person and in a place where everyone feels comfortable to talk. If you can, avoid a conversation over the phone. When you have all the facts and the conversation is going well, you might feel you should be moving the process along right away, but this may be different for your parent. They might need more time to process and think about this big decision and adding pressure to them will only make things more difficult.
Create a list of speaking points and gather some research - Having a solid list of questions, concerns, and information already planned out can help the conversation go more smoothly and stay on track. Questions such as, "How are you doing at home? Do you feel safe or do you wish you had a bit more help?" are great conversation starters. Open ended questions are the best way to get them to share how they feel. Doing a bit of research on assisted living facilities can help you understand what you think is best for your parent. Research is key for a more knowledgeable conversation overall.
Keep the conversation going and avoid overwhelming them with information - This isn't just a one-time conversation to have with your parent and might be brought up several times before more concrete decisions are made. Your parent should always feel like they have options and support when discussing details about assisted living situations. As much as you will want to be a part of this big transition period, this is ultimately for your parent to decide. You want what is best for them, but too much information and planning all at once can be overwhelming and emotional. Make sure to ask them what they feel comfortable with.
When it comes time to discuss it more seriously, 75% of families ignore the topic of assisted living for their loved one. Having an open and honest conversation with your parent and listening to their wants and needs is a great place to start this conversation.