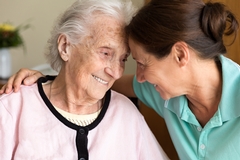 It is hard to think of a life without your spouse. They were the person you relied on, someone who welcomed you home after a long day. For elderly adults, losing their spouse can bring on feelings of loneliness and isolation. Coping with a loss can be difficult and overwhelming without the right support and care from a community — one like Copperleaf can help.
If an elderly loved one close to you is experiencing a loss, having the conversation about moving into an assisted living community can be difficult. Listening to their wishes and giving them support is important. This transition can bring on many emotions, and some people might be hesitant to leave their home and move into a senior living facility.
There are many benefits of making the decision to transition into a senior living facility after the loss of a loved one. Here are a few:
There is always someone to talk to. Copperleaf provides a community of people to help their residents dealing with a loss feel less lonely. They provide comfort and support. Some people might need a friend or professional caregiver to guide them through a difficult change in life.
You won't feel isolated or lonely. Another great aspect of living in a community is that it doesn't feel lonely. Loneliness can cause a variety of health concerns that can be avoided. There are support groups, activities, socials, and more. Residents never have to feel alone or bored. Chances are someone can relate to similar situations and offer advice.
There are many resources for you. Help is always there whenever someone needs it. Whether it be professional help or the help of a neighbor, a resident will have everything they need. There might be things that a spouse always did or helped out with — such as changing a lightbulb — that are not being taken care of anymore. Assisted living facilities can help make life a little easier in the sense by providing resources and services for you.