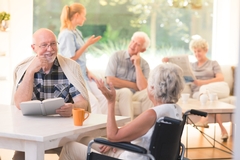 There are so many options when it comes to picking the right housing facility and care for your loved one. Senior living is a broad umbrella term which covers; assisted living communities, independent living, nursing homes, dementia care communities, and short-term stays. Understanding what each of these options mean is essential for picking the perfect new home to meet your loved ones needs.
Assisted Living Communities
An Assisted Living community is for elderly adults who require assistance with everyday life, tasks, activities, managing medications, etc. Residents living in this community have private rooms with a central dining room and opportunities for social activities with fellow residents. These communities allow the residents to live a somewhat private and independent life with 24/7 support as needed.
Although these communities offer personalized care to their residents, they do not provide extensive 24-hour monitoring care for seniors with serious health conditions. Some assisted living communities, such as Copperleaf, do offer memory care units specifically designed for that level of care.
The price of an assisted living facility can vary depending on how large the apartment is, and the level of care required for the resident. If your loved one is a veteran or spouse of a veteran, veteran's benefits may be an option. Also, long-term care insurance policies may be used in assisted living communities.
Independent Senior Living
These communities are for people typically ages 55 and older who do not require much assistance with daily life tasks or a nurse. Residents usually live in private apartments, condominiums, or small homes with access to a dining center, common spaces, and social activities with other residents.
Staff at an independent living home help residents by taking care of landscaping, meal preparation, social activities, housekeeping, and more. Since residents are still independent, staff don't provide hands on care or medical care to residents.
Independent senior living communities are typically the least expensive out of all the options. Prices can range from $1,500 to $4,000 per month depending on the facility, amenities and size of home.
Nursing Homes
A nursing home is a good option for seniors who require a higher level of care or with complex medical needs with increased routine nurse care. Residents will typically live in close quarters with each other, eat meals in a central dining room, and participate in social activities and entertainment.
In a typical nursing home community, there are many doctors, nurses and sometimes therapists on staff to help residents with daily activities, medical needs and monitoring conditions. Nursing homes may also have a separate memory care unit for residents who need specialized care.
Nursing homes can range in price from $4,000 to $13,000 or more depending on care needs and type of community. Medicare, Medicaid, or long-term care insurance can be options to aid in paying for nursing home funds.
Dementia care communities
These communities are designed to care for people with dementia with impaired their memory and make it increasingly difficult to conduct daily tasks. Residents might live in private or semi-private apartments with access to many communal living spaces which are monitored and secured to keep residents safe.
Trained staff work with residents to provide 24/7 care and monitoring with medical needs, personal care, daily care, specialized activities, and behavioral care. Dementia and memory care services can be provided within an assisted living community as well.
Prices for these communities can vary from $3,000 to $10,000 per month and personal funds can be used as well as Medicaid or long-term care insurance.
Short term stays or respite stays
A short term or respite stay is good for people recovering from an illness, surgery or need assistance when their primary caregiver is unable to care for. At Copperleaf, a respite stay ensures adequate assistance for your loved one while also allowing them to maintain their independence and daily routines.
A short term or respite stay offers 24-hour care, health monitoring, help with daily tasks, and social activities. This is a great way to get familiar with an assisted living facility for you or your loved one just in case it is needed in the future.
Finding the right home and community for your loved one which provides all the right resources, amenities, and specialized care is most important. Keep in mind situations may change in the future and an independent living community or respite stay could be a good choice now. Think about your loved ones needs and personality when helping them make the decision of which facility is best for them.