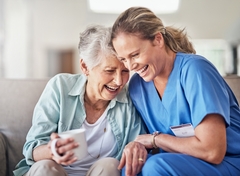 When elderly adults are having difficulty performing day-to-day activities or don't feel comfortable in their own home, Copperleaf Senior Living is the perfect solution. At Copperleaf, we have a multitude of options including; Assisted Living, Memory Care, and Home Care. We pride ourselves with our ability to provide the specialized care needed for elderly adults with dementia.
Copperleaf's Memory Care homes provide all their residents with the extra attention and have the expertise to handle all levels of dementia residents.
It can sometimes be hard to know when your loved one need more specialized care due to a dementia diagnosis. The amount of care varies depending on the level of dementia that person has. There are some general signs to look for when making the decision to move from Home Care or an assisted living home to a memory care home.
Some general signs to look for can include:
Disorientation and wandering
Your loved one might start becoming disoriented or unfamiliar with their surroundings. This leads to wandering which can be dangerous for an elderly adult due to them protentional getting lost or putting their safety at risk. Studies show that 60% of dementia patients wander and become disoriented.
Behavior changes
Your loved one could start displaying different behavior, such as depression or frustration. This is a common change with the early stages of dementia. Moving your loved one to a memory care home can be beneficial to their mental and emotional well-being of. Studies show memory care treatment can improve behavior problems after just six months of care.
Difficulty socializing
You may find it hard to have a conversation with your loved one. This is most likely due to the declining of cognitive function. Dementia affects memory and communication functions, which makes it difficult to maintain social contacts and participate in traditional social activities.
Increased care needs
Dementia residents are in need of more care to help them both mentally and physically. They may become extremely dependent on their caregivers for simple daily tasks. This ultimately can cause stress and burnout of other family members due to extra demands of the patient. At Copperleaf we have trained caregivers to provide the required care your family member needs.
Seeking memory care for your loved one who is diagnosed with dementia can be difficult. At Copperleaf Senior Living, we will do whatever we can to help make the transition a bit easier for you and your loved one. Safety is the most important thing when it comes to your loved one. moving them into one of Copperleaf's specialized memory care homes is the next step in your loved one's life.