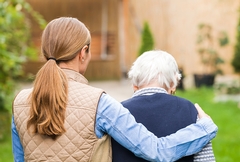 Being a caregiver can often be a physically and emotionally exhausting job. If you are the primary caregiver for a loved one, considering a respite stay might be a viable option.
You may find a respite stay beneficial if you need extra help caring for your loved one, if you are in need of a break, or if you have a demanding work schedule. Before you have this potentially difficult conversation, make sure you are prepared by checking out these tips for talking to your loved one about a respite stay:
Have the conversation now - Waiting until the last minute to discuss a respite stay can make things more difficult and stressful for both the caregiver and the loved one. This is important because as people age it can be harder for them to accept life changes.
Give them time and space - Even if you have talked about a respite stay in advance, it will still take some time to adjust. It is important you continue to have conversations with your loved ones helping them prepare for a respite stay when the time is right. Make sure to give them enough time and space to process this potentially overwhelming change.
Be upfront and honest - You may feel some guilt when admitting you need a break from your caregiver role. This is not uncommon, as being a caregiver for your loved one can be a stressful and a time demanding role. It is very important you explain when you are starting to become overwhelmed or stressed with your loved one. Your honest will be appreciated by them.
Make them feel at home - If you have already had the conversation about respite stay, understand this can be a big change for your loved one. Talking to them about what environment they prefer, deal-breakers, and other amenity preferences they might like is an important part in this decision. Go through options together and allow them to be part of this decision regarding their home change.